About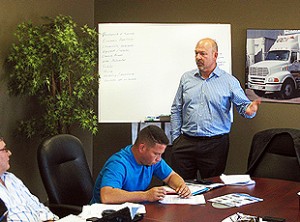 With more than 35 years industry experience, Paul Horsley is the man behind one of North America's most
successful power washing companies – Scotts Pressure Wash. The company was founded nearly 50 years ago by his late father. President and owner, Paul runs the company from his Calgary, Alberta head office and has operations in Edmonton, Vancouver, Saskatoon and Ottawa. Paul has a staff of over 40 employees and a fleet of more than twenty-three mobile units. In addition to fleet washing, Paul has pioneered the industry in the area of rail car cleaning. Paul has been active member of the Power Washers of North America (PWNA) since 1996 and currently serves as Director of the PWNA Board. His insight, guidance, and professionalism have proven to be a true asset to the Association. Paul has been instrumental in developing Best Management Practices for the power washing industry and recently created the Water Reclaimer Program for the PWNA.
Paul was nominated for the Entrepreneur Of The Year in 2000, he was recognized by the United States Department of the Interior "Take Pride in America" in 2007, and he was granted the PWNA Joe Walters Award Most Valuable Member in 2008 and the PWNA Leadership Award in 2010. Paul is also an active Philanthropist and has traveled the world pursuing those endeavors.
Learn more about Paul Horsley's Consulting Services
Owner of Scotts Pressure Wash – the largest pressure washing company in Canada
Scotts Pressure Wash has built a reputation as the leading image management service in Western Canada. Scotts is committed to providing customers with reliable, high quality service, using the latest equipment, technology and the best management practices. Employing environmentally friendly power wash services, Scotts restores business images and improves the value of truck fleets, rail cars and property management sites.
I have been in the power washing industry for 16 years and my business has focused on residential cleaning. I wanted to add fleet washing to my service offerings and I had no idea how … or where … to begin. Considering that fleet washing is one of Paul's areas of expertise, I knew that he had much to offer. I personally visited his Calgary operation in May and December 2010, to participate in his mentoring program. Not only did Paul provide extensive field training and business building guidance, he was also able to set me up with custom-built equipment, modeled after the units he uses in his own trucks. Paul is extremely knowledgeable and very successful … and I would not hesitate to recommend his mentoring program!"
-Mike Hilborn, President Roof-to-Deck Restoration worked directly with Paul at Paul Horsley Consulting
Visit the Scotts Pressure Wash site