Consulting Services
Paul Horsley can guide you in growing your pressure washing business and improving your bottom line. Ranging from hourly consulting to multi-day planning sessions, Paul will assist you in your specific business concerns. Whether you need assistance locating the proper industry resources, maintaining your equipment, or strengthening your marketing material, Paul will guide you through the process step-by-step.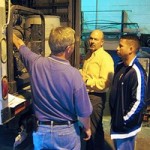 With Paul's consultation, you will earn back the consulting fee quickly as your cash flow grows each month. Taking advantage of Paul Horsley's consulting services is a valuable investment in your business' growth.
My coaching is definitely not for everyone.  If you are looking for someone to "rubber stamp" your decisions and validate your opinions, we won't have much to offer you.  But if you need a partner who can stand next to you in your leadership position, looking with an experienced eye at where you've been, what you are dealing with right now, and where you dream of heading, we can help you chart your course and help hold you accountable for staying on track.
Paul can assist you in various ways as outlined in the consulting packages list below. All daily rates are for 8-hour days and are quoted in US dollars. All fees are non-refundable.
Strategic Planning Session
One-day or multi-day Intensive strategic planning sessions
Hosted "over the shoulder" at Paul's headquarters in Calgary, Alberta
Learn the strategies behind a successful $4,000,000 pressure washing operation
Meetings held in on-site classrooms and boardroom
Opportunity for field visits to gain experience with cutting edge technologies
Available to individuals and groups
Fee: $1800 / day
[hr]
On-Site Consultation
Paul travels to your location for intensive strategic consulting
Review your pressure cleaning processes and provide recommendations
Evaluate your business processes
On-site consultations are only available after an initial analysis over the phone
Fee: $3,500 / day
[hr]
Hourly Remote Coaching
Ideal for individuals who want personal coaching on an hourly basis
Telephone consultation on topics of your choice
Minimum one-hour consultation
Fee: $275 / hour
[hr]
Monthly Remote Coaching
Monthly telephone consultations to keep your business on track
Each consultation includes teaching on a specific topic followed by a question and answer session
Topics chosen based on your specific business needs
Fee: $550 / month
Call 403-888-4835 or fill in the convenient contact form to set up a consultation or discuss which consulting package is the best fit for you.
[hr]
Testimony from a Strategic Planning Session participant
I flew myself, and three of my men, from Puerto Rico to Canada for an intense one-week mentoring program that included everything from hands-on power washing demos to business theory. It was amazing! In five days I feel that we have progressed immeasurably. Most importantly, we have a new-found confidence and optimism for the future. We were extremely happy with our mentoring experience!
-Mercelo Villena, Caribe Fleet Wash, San Juan, Puerto Rico